The Photography Fundamentals Series provides in-depth photography tutorials teaching each of the photography skill sets & camera techniques which I use to create images.
It was specifically created for photographers of all skill levels, with a desire to learn, solve problems, and gain an overall better mastery of photography.
Scroll down to access the tutorials!
---
Photography Fundamentals Tutorials
Each basic/fundamental photography skill set is provided in the order of which they are to be learned.
Each subsequent skill set builds upon knowledge from the pages before it.
Use the Links Below & Access the Fundamental Skill Set of Your Choice: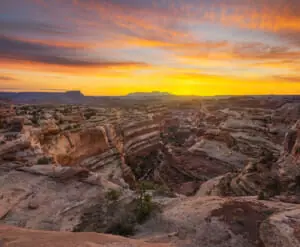 10X your landscape photography with 7 essential steps and a free PDF download to take out shooting with you.
Master complete camera technique for Aperture Priority Mode and learn why it's superior to manual mode in many shooting scenarios.
Back button focus ensures sharp focus, 100% of the time, providing precise control over the autofocus & focal point, producing high-quality images.
Learn the best color theory photography tips for mixing and displaying colors, in visually appealing combinations, known as color harmonies. Photo editing video included!
Learn 5 essential composition photography techniques to take world-class photos.
Learn why camera sensor size matters, how camera sensors work & what camera settings produce the best quality images on a consistent basis.
Master depth of field photography settings and sharp focus while learning the best f-stop, aperture, & lens settings for any shooting scenario.
Use the shutter speed chart, and step by step guide, to improve your long exposures, action shots, night sky photography & more.
Learn the best ISO photography settings for any shooting scenario. Control image noise & master the photography exposure triangle.
Learn the photography exposure triangle and select the correct f-stop, shutter speed, and ISO, producing the perfect exposure, for any shooting scenario.